Wildfire, by Implication
(Don't worry, this is temporary. We'll have an awesome site up soon.)
---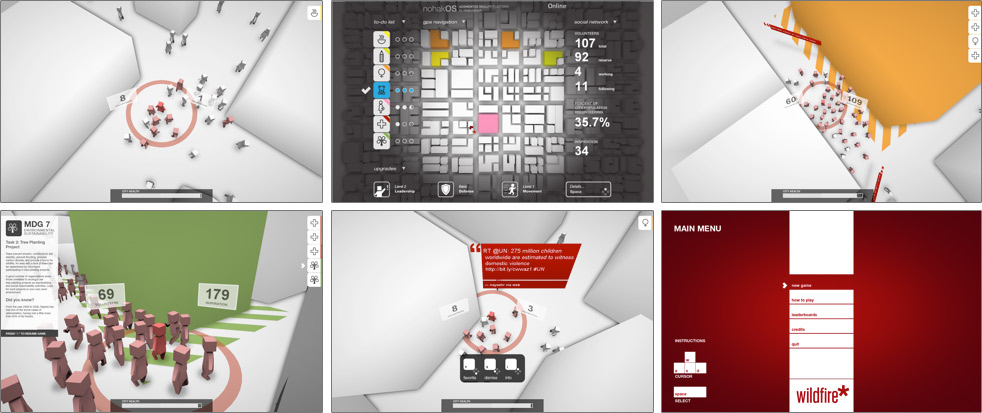 While waiting for our website to go up, we've decided to release Wildfire, our first place Imagine Cup entry for Game Design, on this temporary page.

Software: Windows XP, Vista, or 7.
You'll also need .NET 3.5 and XNA 3.1 (The installer below should download it for you, if you don't have it.)
Hardware: Core Duo class CPU or higher, 1 GB RAM or higher, Graphics Card with Pixel Shader 2.0+
(What was that? GeForce 6xxx series or higher, Radeon X2xxx series or higher.)
Wildfire also supports the XBox 360 Controller, if you have one.
Unfortunately, the tutorials only describe keyboard + mouse controls, but you can figure it out.
To see Tweets in-game, make sure to link Wildfire with your account. You can find this in the settings screen.
Where is it?
Download here
. Go nuts, and let us know what you think. :)
Interested in our Round 1 entry?
You can check that out here.
Questions / comments / feedback?
There's a FAQ section below, but for everything else,
please email us at: or message us on Twitter. (team, philip, levi)
Also, check out our (currently much nicer, but also incomplete) homepage at http://byimplication.com.
Other links:

YouTube:
Round 1 Video / / Round 2 Video / / Our presentation at Poland (two parts, thanks ImagineCupJP)
Other Imagine Cup Game Design Finalists:
Green Gears / / Junk Master / / Shift / / Chronicles of Balam / / Morg's Adventure
Press, reviews, coverage, blogs, etc:
Kotaku Australia (1, 2) / / Wired - Geek Dad / / Andrew Parsons / / The GUIDON
Philippine Online Chronicles / / Inquirer (1, 2, 3) / / Manila Bulletin / / Philippine Star
FAQ:

Free? Really?
Yes, this is a public release of the version we competed with, in the Imagine Cup.
When we do develop Wildfire further, you can expect a commercial release. :)
I'm having trouble with the installer. It freezes when installing .Net or XNA.
This is an issue some people run into with Microsoft's ClickOnce installer,
please try downloading .Net 3.5 and/or XNA 3.1 manually, then running the installer again.
If problems persist, do let us know.
Xbox 360 version can has?
We're actually pretty interested in this, but our biggest hurdle is that there is
no Xbox Live Marketplace in the Philippines. (without an account, we can't publish.)
This page looks really ugly.
We know. Sorry about that. School and work get in the way.
Please do check back soon!
Valid XHTML + CSS. Kinda hard not to be.
Copyright 2010, Philip Cheang, Wilhansen Li, Rodrick Tan, and Levi Tan Ong.
Thanks also to Kenneth Yu.